Our story
IE began life in 1994, founded by our MD Ollie Leggett.
As a former teacher, design lecturer, and charity trustee, Ollie had a passion for helping Charity, Health and Education clients to connect with their audiences and gain access to the industry's best creatives – something that, back then, was all-too-commonly only possible for 'big business'.
Originally founded as a brand consultancy, in 2002, IE bought a digital agency, after recognising that digital platforms were becoming one of the most important expressions of brand – and we were fed up of seeing our work butchered by techies.
So the two companies merged and became the agency we are today: A team of around 20 consultants, researchers, developers and creatives based in the historic Jewellery Quarter in Birmingham. And we still remain true to our original vision – putting technology to good use for values driven, not-for-profit clients.
Whether it's working with Government Digital Services to develop the future of digital apps in the healthcare market, helping charities to recruit volunteers and donors, or helping universities to attract and engage students – we're helping not-for-profits to engage with their audiences – increasing their impact and reach through user research and discovery, UX design, user testing, CMS websites, mobile apps, CRM integrations, and bespoke web applications.
That's why we're the digital agency for Charity, Health & Education.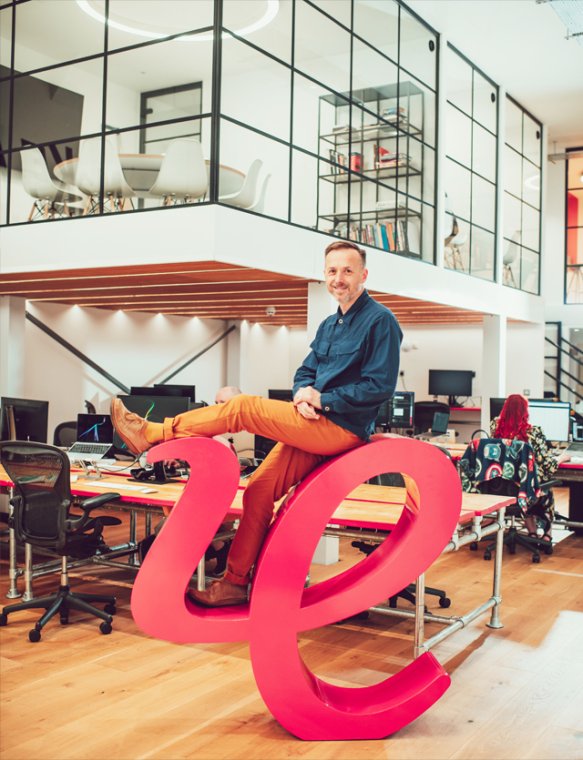 Our team
Call us big headed, but we're pretty confident we've got the best people in the industry.
Because IE Digital is only as good as its people. Our studio is full of some of the industry's best digital consultants, UX / UI designers, web developers, project managers, and creatives – all under one roof.
Ed Wilkinson
Digital Services Director

Email Ed

Ed joined IE as a Web Applications Developer in 2008 after completing a BSc in Artificial Intelligence and Computer Science, and an MSc in Intelligent Systems Engineering, from the University of Birmingham. He grew into a senior development role, before taking a step away from writing code and towards user experience and technical consultancy. Nowadays – along with leading IE's digital team – you'll find Ed delivering discovery and UX workshops, facilitating user testing, crafting innovative new information architectures, and advising clients on how best to leverage and connect different digital tools in a compelling user experience.

Ed has spent the past 11 years immersed in the challenges faced by the charity, health and education sectors – from their aspirational goals and 5-year strategies, to the best technology choices, and right down to the individual lines of code required to deliver an experience that will make a measurable impact on achieving objectives.

Ed manages IE Digital's project, helpdesk and support teams – and is responsible not just for the initial delivery of high-quality digital experiences, but for the ongoing management, support and improvement of those experiences over time.

Together with keeping his technical and coding skills sharp through various personal projects, outside of work, Ed's insatiable appetite for real-world problem solving extends to home automation, DIY and interior design. If there's any time left after that, it's spent reading science-based non-fiction, astronomy, DSLR photography and playing the occasional video game with friends.


Ollie Leggett
Managing Director & Brand Consultant

Email Ollie

With a strong desire to work with values-driven organisations to make a difference through digital and brand, Ollie founded IE in 1994 and still supports IE's more complex brand consultancy projects.

His notable clients include Vax, World Vision, CSH Surrey, First Community Health, Cranfield University and the Goldman Sachs Foundation.

Having worked in the creative sector for 25 years, Ollie is a regular speaker at CHASE and AGCAS and is an opinion leader in the area of advancing business practices within the creative industries. An ardent believer of self-improvement and the power of peer networking, Ollie is a graduate of business courses at Aston Business School, London Business School and Cranfield School of Management and, having been awarded a scholarship to study for an MBA at Aston Business School, graduated in 2018 with Distinction.

Ollie is a Queen's Small Business Charter Mark business school assessor for the Association of Business Schools and a Visiting Industrial Fellow and Guest Lecturer at Aston University. He recently retired his position as trustee of Trident: Reach The People Charity (a £14m+ social investment charity in the Midlands) to become a founding member of Christian Aid's Salt Business Network.

Lord Young consulted Ollie whilst gathering thoughts for 'The Report on Small Firms 2010-2015' and Lord Heseltine for his report, 'No Stone Unturned in Pursuit of Growth'. Ollie received an invitation to No. 10 Downing Street and to the Queen's Garden Party 2015 with Lord Young's gratitude.

In his free time, he is an avid runner, cook and figurative sculptor. Having raised thousands of pounds running for Midlands charities, he recently completed his first full marathon and strives for a sub 3.5 hour PB before turning 50.

Kate Stone
Director of Operations and Finance

Email Kate

Kate's been with IE for over 15 years and always aims to find ways to improve.

A Chartered Accountant, Kate previously enjoyed working with clients in her role as a Business Services Manager at Grant Thornton.

Her financial expertise partners brilliantly with her passion for precision project management. Kate is PRINCE2 trained and is a fervent exponent of the 'Agile' project management philosophy. Partnered with the Consultant, Kate ensures your project is well resourced and presented.

Outside of work, she enjoys boot camp sessions in all weathers.

David Crichton
Creative Director and Brand Consultant

Email David

With over 20 years' industry experience under his belt, Dave serves as IE's Creative Director – leading IE's brand offering, as well as working as a Brand Consultant.

Beginning his career as a Graphic Designer and making a gentle transition to consultancy, Dave combines his agency experience – which has seen him work with clients across almost every sector – with his love of design, writing and filmmaking.

Dave's passionate about making sure that 'the brand experience' is as effective online as it is offline – helping to create compelling user experiences, and beautifully crafted digital design work.

Dave can often be found knee deep in research for a brand project, locked away in a room writing key messaging, art directing a visual identity project or website storyboard, on location for a campaign video, or bringing clients up to speed and running workshops.

Dave has spent his life and career obsessed with the power of brand, and helping clients to connect with their audiences by standing out from the crowd, and telling their story to the world.

Over the last few years, he's been thoroughly immersed in the worlds of charity, health and education – and before that worked on a wide range of brand and digital projects for a number of blue chip clients, including investment banks and building societies, record labels, TV production companies and retail.

Dave and his wife are the proud parents of two young daughters, who take up the majority of his time outside of work. However, he tries to find time to indulge his passion for playing piano, and creative writing – he is often to be found working on speculative screenplays, and is a published non-fiction author.

James Marsh
Senior Digital Consultant and Head of Support

Email James

Senior Digital Consultant, James earned a BA in Interior Architecture and an MA in Design Management and brought his varied experience to IE in 2012 to a diverse group of clients.

Due to his expertise in user experience, he tends to specialise in projects that require a more detailed understanding of audience.

For the last fifteen-plus years, James has designed, built and managed mobile platforms, intranets and internet sites for some of the UK's most well-known FTSE companies.

When not at work, James drives a VW Camper, bakes bread and volunteers as a Governor at one of Birmingham's top primary schools.

Jodie Pryce
Digital Consultant

Email Jodie

Jodie began her career as part of Keele University's Student Support team on all things digital media.

Having discovered a passion for learning about different technologies, she moved into a Digital Producer role at a Birmingham agency. She's produced websites, apps and ecommerce platforms, working with blue chip clients in fashion, insurance, children's products, education and technology. She has a degree in Business Management and History.

Jodie was attracted to IE's values driven ethos and the chance to make a difference for charity, health and education clients. She takes great pride in building strong client relationships, believing in transparency and communication as the keys to success. She's always striving for excellence and looking for ways to improve.

Outside work, Jodie loves to travel, having visited New York, Thailand, Barbados, Finland, Egypt, Malta, Sweden, Spain, France and Belgium to date.

Sophie Kish
Digital Project Manager

Email Sophie

Sophie is an experienced digital project manager with over 8 years in the industry.

She has worked on over 100 projects across multiple sectors, from food and finance to charities and construction. She has extensive experience across the whole agency spectrum, working on projects from brand and creative work through to producing websites, apps and custom platforms.

With a passion for processes and a keen eye for detail, Sophie takes pride in delivering high quality work. She loves making a difference for her clients, by bettering their online offerings, making best practice recommendations, and offering advice to improve the user experience for service users.

Sophie's background is in film and media. She graduated with a 1st class BA Hons and has successfully transferred the skills she learnt in her degree into her project management and production roles.

A self-confessed crazy animal lady, Sophie loves spending time with the furbabies in her life. She also loves to sing, bake, take photographs and go on adventures with family and friends.

Kat McElroy
Helpdesk Analyst

Email Kat

Kat joined IE as a Helpdesk Analyst to put her varied educational background to good use.

Her undergraduate degree at was a multimedia BSc that covered a little bit of everything, from photography, filmography and design to programming and industry knowledge. Her interest in web design and development came from using creative forums and making them pretty and user-friendly. For her dissertation, she built a prototype for a web app that creatively displayed story data for authors. She then completed an MA in Creative Writing.

Kat went first into a developer role, designing and building email templates, before moving into the marketing department as the company's dedicated copywriter. This combination of tech and writing experience (as well as her love of a good chat) make her well-suited to a being the face of IE Digital's client support desk.

In her spare time she enjoys entertaining her young son, playing video games, watching terrible TV, crying over her novels-in-progress and intimately discussing people's star signs.

Nathan Powis
Head of Development

Email Nathan

Nathan has over ten years' experience as a programmer and web developer.

He joined IE following several years working in design agencies. He'd already earned a degree in Information Technology and Physics from Loughborough University, which instilled in Nathan a logical approach to problem solving. This helps him build elegantly crafted, bespoke, digital solutions to client problems using state-of-the-art web technologies and frameworks. After just under two years at IE Digital, Nathan progressed to become our Head of Development, and is an Acquia Certified Drupal Developer.

In his free time, Nathan is an avid gym-goer, and loves listening to a wide variety of musical genres, attending concerts and gigs.

Jordan Peck
Senior Front End Developer

Email Jordan

Jordan is an experienced web developer with over 8 years in e-commerce and the digital industry.

Jordan initially studied art and design, with a placement as a Junior Web Designer. He quickly realised that he wanted to take on the technical build on projects and bring his designs to life. He went on to study Web Development at Staffordshire University, achieving a first class BSc honours degree.

He went on to work both client-side and within agencies as a web developer. This has given Jordan experience of working with multiple CMS platforms, including WordPress, Magento, Shopify and Shopware, as well as experimenting with headless sites. He's now joining IE as a Senior Front End Developer.

Away from the screen, Jordan enjoys going to the gym, travelling, photography and watching motorsports.

Dan Lewis
Web Developer

Email Dan

Having dabbled in a bit of self-taught Java and Ruby from a young age, Dan jumped at the chance to take up an apprenticeship with a local web development agency.

In his 4.5 years there he delivered bespoke WordPress sites and custom Laravel applications for a range of clients, from a nationwide childcare company, to the McDonalds Maintenance & Repair Department.

A life-long member of the Scouting community, first as a Scout and now as a leader, IE's focus on values-driven organisations appealed to Dan. As our newest recruit, he's building on his existing skills to quickly get to grips with projects in Drupal 8, CiviCRM and SOAP integration, as well as continuing to work on our WordPress sites.

When not coding, Dan can usually be found hanging off the nearest climbing wall, strumming his guitar, or exploring a good open world RPG.

Josie Evans
Senior Designer

Email Josie

Josie is passionate about telling stories through beautifully crafted designs that inspire an emotional response.

She has a first in Graphic Design from Falmouth University, plus over four years experience at a top London agency, before joining IE in 2018. She's worked in charity, health and the arts, as well as with blue chips, luxury hotels and digital startups.

Josie is as skilled at designing visual identities and design for print – her first love – as she is turning wireframes into user-friendly digital designs. She was named the Creative Young Contender 2021 at the Transform Awards Europe, recognising her versatile skill set and love of supporting upcoming design talent.

She's interested in fitness, enjoying running, yoga, and teaching kids to swim. She also experiments creatively outside of the studio, experimenting with colour concrete plant pots, which she hopes will one day be good enough to sell.

Tim Harbon
Associate Designer

Email Tim

Tim holds a degree in Graphic Communication from Bath School of Art and Design and began his design career working for a micro-brewery.

He has since spent time both within agencies and as a freelancer, passionately crafting brands for various intriguing clients, pleasing to the eye, while remembering to serve their purpose.

As an avid illustrator and a real 'ideas person', Tim's design process will always start with a strong concept and a pageful of sketches, many of them worth holding on to.

When not at work, Tim enjoys illustrating for pleasure and has written and illustrated a children's book. He also loves mountain climbing, brewing his own beer and playing drums, much to the frustration of his wife and daughter.

Having worked with IE for many years as a full time member of the team, Tim now works with us as an associate designer, and we continue to make great use of his talents on a regular basis.

Sheri Dykes
Associate Designer

Sheri is a designer and illustrator working from the wild West Coast of Scotland.

Before taking the freelance plunge she worked for agencies in London and Bath on a diverse range of branding projects, from Scouts to Ben & Jerry's.

She's a Falmouth graduate with an idea-first approach and a keen eye for craft.

Dan McQue
Associate Designer

Email Dan

A multi-award-winning designer, Dan worked in IE for eighteen years before going solo.

He originally earned a BA Honours degree in Design for Communication Media, graduating from Manchester University. Dan's talent and dedication is evident in his consistency to produce industry-leading work. This has been recognised time and again as he's been featured in magazines, online galleries and a book.

As Senior Designer, Dan often takes the lead in the design process whilst collaborating with IE's consultants, using his experience and expertise to convert feedback and research into a stunning visual design.

In his free time, Dan enjoys astronomy, photography, drawing and loves playing ping pong. He lives and works remotely from his home studio in Brighton, regularly attending industry-related conferences.

Sara Shailer
Associate Marketing/Brand Consultant

Email Sara

Sara earned an MBA from the University of Warwick and is also PRINCE2 qualified.

She brings expert support on research, planning projects and marketing strategy to IE. She thrives when given the challenge of developing key marketing strategies to allow clients to shine, often discovering new paths to maximise potential and growth.

Her track record of delivering high-quality projects in both the charity and commercial sectors is nothing short of impressive, having worked with organisations such as the Amateur Swimming Association, CSH Surrey and CMI Strategy.

Committed to inspiring insight, Sara is passionate about crafting and delivering research that truly makes a difference, whether it be e-surveys, interviews and focus groups or analysing data. As an accomplished facilitator, she also works with clients and their in-house teams, running scenario-planning workshops, coaching sessions, problem-solving, team meetings and more.

Oliver Westmancott
Associate Digital Consultant

Email Oliver

Oliver first started working with IE in 2000 and became a director when IE bought his consultancy business in 2003.

Although no longer hands on with production work, Oliver still loves technology, particularly when it's applied to solving real world problems. He provides hands-on consultancy support to key clients, leading co-creation workshops with stakeholders from the likes of including Public Health England, NHS Digital and West Midlands Fire Service. He recently addressed a delegation of Chinese healthcare executives through Nine Health CIC and presented at the HIMSS Executive Leadership Summit.

Oliver loves to wrestle with the strategic challenges of organisations and to look for interesting digital solutions to those challenges - appropriate for the world we live in today.

Alongside IE's MD Ollie, Oliver graduated from the Business Growth Programme at Cranfield School of Management.

Outside of work, he has an eclectic range of interests from breeding ducks to hand developing photographic film.

His real passion though is for seeing peoples lives transformed, both here in the UK and across sub-Saharan Africa. Oliver feeds this by working as an elder of his church (The Forge) and as a supporter and advocate for a South African charity (Hands at Work) working with the poorest of the poor in eight African countries.

Denise Atkins
Associate Marketing and Content Consultant

Email Denise

With over 20 years' experience in marketing across a number of sectors, Denise is IE's content marketing specialist.

Denise enjoys nothing more than working with talented experts and promoting that expertise to clients, be it through brand messaging, thought leadership, social media or events. She creates clean and engaging copy for our clients as well as for IE.

She's trained with Content Design London and takes a keen interest in user-driven content and accessibility. She's also our go-to PowerPoint whizz, adapting the work of our design team into brilliant branded templates that make creating on-brand presentations a breeze for our clients' teams.

Denise is as passionate as we are about working with values-driven clients, particularly anything to do with animals, the environment or the arts. Outside work, she is a keen amateur photographer and appreciates a wide range of entertainment and culture.

Iris Keenan
Associate Fundraising Consultant

Iris lends her 20 years of experience in the fundraising sector to key IE client projects.

She's led fundraising for a number of large charities including World Vision and Oxfam, worked in an advisory capacity developing international marketing strategies, and mentored small charity fundraising teams to drive up donations.

She is a visionary leader with a heart to develop and inspire people to achieve their goals and grow as individuals.

Beyond her consultancy practice, Iris is a part-time Director of Programmes and Supporter Engagement for the International Nepal Fellowship, a small international development charity.
Our awards
UK Association Awards 2021

FINALIST – Best Digital Transformation for Association of British Dispensing Opticians (ABDO) membership portal.

The UK Association Awards are held by the Association of Association Executives (AAE) to recognise excellence in the sector. The awards are supported by the most distinguished associations and societies, and have an excellent reputation for fairness and good practice.

Other finalists in the category included Royal Society of Chemistry, British Frozen Food Federation, Federation of Master Builders, Fire Protection Association, and eventual winners Association for Clinical Biochemistry and Laboratory Medicine.

Not only are we much more efficient, [the member portal] has removed a lot of the barriers to engagement for our members. Genuinely transformational for ABDO and its members.

Antonia Chitty


Head of Communications and IT at ABDO

Close

Corporate Member of ACO – the Association of Charitable Organisations

ACO is the national UK umbrella body for charities that give grants and welfare support to individuals in need. IE is proud to work with charity clients including the RAF Association, St Vincent de Paul's Society, Baron Davenport's Charity, and Clergy Support Trust – who we recently renamed and rebranded from Sons and Friends of the Clergy, and built their new website.

MemberWise Recognised Supplier

MemberWise is a thriving professional community that provides practical help and support to over 5,000+ membership organisation and association professionals based in the UK and overseas.

IE Digital is proud to be a MemberWise Recognised Supplier for our extensive work with membership associations. Check out some of our membership projects and clients.

ISO 9001 : 2015 Certified

As a business we are ISO 9001 Accredited and undergo an annual external audit. This is one of a number of internal processes and procedures we have in place to ensure our clients receive a first-class experience with IE.

IE has been ISO 9001 accredited since 2008 for the design and provision of web, interactive, design and brand solutions.

Last audited October 2020. Certificate number GB 14129916.

Premier Digital Awards 2019

RUNNER-UP – Best New or Redesigned Website for Clergy Support Trust.

Premier Digital's mission is to help the Christian community take hold of all the opportunities offered by the digital revolution. They aim to inspire people with what is possible, equip them with new ideas and skills, and connect people and organisations to achieve their aims. The Premier Digital Awards celebrate excellence, share best practice and encourage those serving God online.

Read more about our award winning Clergy Support Trust website.

Charity Times Awards 2016

SHORTLISTED – Best use of the web for Career Ready website and volunteer management system.

The Charity Times Awards celebrate best practice in the UK charity and not-for-profit sector. Other nominees in the category included charity giants Citizens Advice, Royal Air Force Benevolent Fund and Shelter.

Charity Times Awards 2013

SHORTLISTED – Best use of the web for PFEG (now Young Money, part of Young Enterprise)

Read more about PFEG on IE Brand.

W3 Awards, 2017

SILVER – Outstanding User Experience (Websites) – Countryside Classroom (Farming and Countryside Education)

SILVER – Outstanding Education Website – Countryside Classroom

SILVER – Outstanding School/University Website – AgriFood Training Partnership (AFTP) (University of Nottingham)

SILVER – Outstanding Mobile App/Site-Self Promotion – IE Digital

SILVER – Outstanding Website-Self Promotion – IE Digital

The creativity and quality of this season's entries raised the bar once again... our winners are a true testament to the power of web creativity across the world. We applaud the talents and dedication our winners showcased and commend all of this year's entrants for their commitment to furthering the quality of the content we view online.

Derek Howard


Director of the AIVA

Close

CIWM Sustainability and Resource Awards 2016

SHORTLISTED – Most Effective Communications Campaign for WRAP Love Your Clothes.

Campaign brand, messaging and visual identity by IE Brand. Love Your Clothes website, including video content, by IE Digital.

The Sustainability and Resource Awards are held annually by the CIWM (Chartered Institution of Wastes Management). The prestigious awards are presented for outstanding achievement in the sustainability, resource and waste industry and are judged by the most respected experts in the sector, representing the highest level of achievement.

CharityComms Corporate Partner

IE's core belief is that the world's values-driven organisations deserve access to the best: the best thinkers, the best creatives, the best developers and the best service.

As an agency partner who understands the needs of charity marketing and communications professionals, IE is proud to be a CharityComms Corporate partner.

Living Wage Foundation

IE Digital is proud to be accredited by the Living Wage Foundation, for voluntarily paying a higher rate of base pay.

The real Living Wage rates are independently-calculated based on what people need to get by – higher than the UK governments minimum.

Pantheon Partner

IE Digital have adopted Pantheon's cloud-based hosting platform for the majority of our Drupal and WordPress websites. Pantheon's state of the art architecture helps us to deliver amazing experiences for our clients and their users, and improve our productivity. Pantheon boasts super fast speeds and 24 x 7 x 365 support, on the very rare occasion that something goes wrong.

Our web developers are Pantheon trained.

AHCM Communicating Healthcare Awards, 2013

SHORTLISTED – Best Website for CSH Surrey

SHORTLISTED – Best Visual Brand for CSH Surrey

W3 Awards, 2010

SILVER – Outstanding Website, Health for Solihull NHS Care Trust
SILVER – Outstanding Website, Health for West Midlands Quality Review Service (NHS)

W3 Awards, 2009

SILVER – Outstanding Website, Not-for-profit for Digital Birmingham
SILVER – Outstanding Website, Charity for University of the First Age

The British Council's Youth on Board Award, 2012

WINNER – Inspiring Project for PFEG (now Young Money, part of Young Enterprise)

Campaign: "Our Money, Our Future"
Careers
IE's people are our most important asset.
We believe in investing in the next generation of consultants, designers and developers. That's why we created the IE Academy – a recruitment programme for newly graduated developers.
Each and every member of the IE Digital team shares our ethos, and we encourage the team to participate in charity / community projects, which are supported by the agency. And we're in the process of becoming a certified B Corp.
Anyone can make a website. We're making a difference.
Our benefits:
We're trialling a 4 Day Week for the whole team from 1 June
25 days holiday (plus bank holidays)
Hybrid working*
Flexible working hours
Time off in lieu
Paid overtime
Buy/sell holiday
Health cash plan
Time off for community projects
Pension scheme
Personal training budget
IE Digital is proud to be accredited by the Living Wage Foundation, for voluntarily paying a higher rate of base pay.
*Hybrid working
We're currently trialling hybrid working. We're all working together in our beautiful new studio in Birmingham on Mondays (or Tuesday if it's a Bank Holiday). And for the rest of the week, our team has the flexibility to work from home or from the studio based on individual preferences, the nature of roles and training requirements, and the needs of your team and the wider business.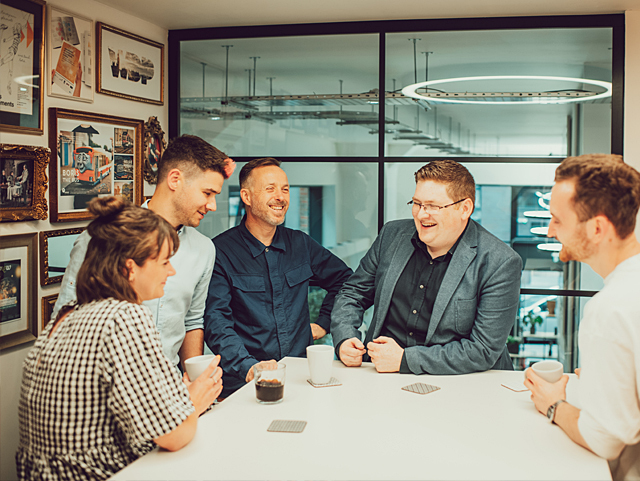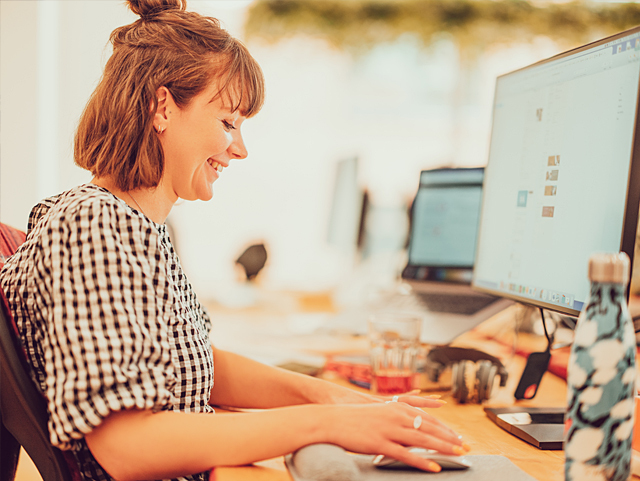 Location
IE Digital is proud to be a Birmingham agency, but that doesn't mean we only work in and around the UK's second city.
With so many UK charities choosing London as their headquarters, it's no surprise that over 50% of our clients are based in the capital, and IE consultants are in London at least 2-3 times per week on average.
And with UK universities being an area of specialism, we also work across the whole country, with clients as far apart as the Universities of Aberdeen and Southampton'. We've also worked with a number of clients in the Republic of Ireland, including University College Dublin.
We're based in the heart of Birmingham, in the historic Jewellery Quarter – just a few minutes walk from the City Centre. In 2022, we opened our purpose-built studio in the Kettleworks development, which formerly manufactured world-famous Swan Kettles.
Our central location offers the perfect opportunity for us to hop on the motorway or jump on the train regardless of your location. Current travel time by train to London is just over an hour – so we can often be with you faster than London agencies can travel across the city: offering you the convenience of a local agency, without their day rates.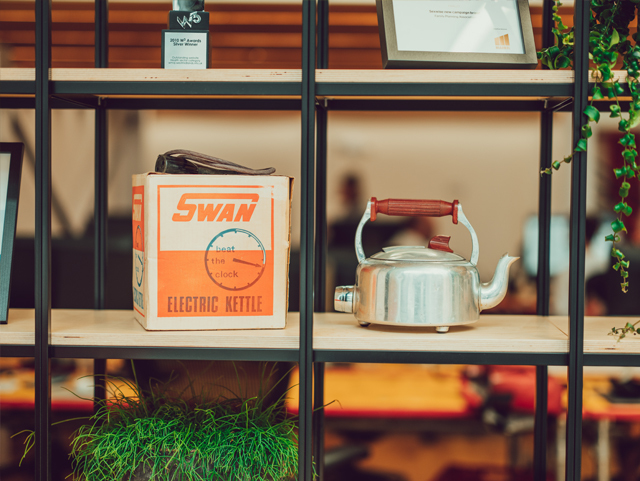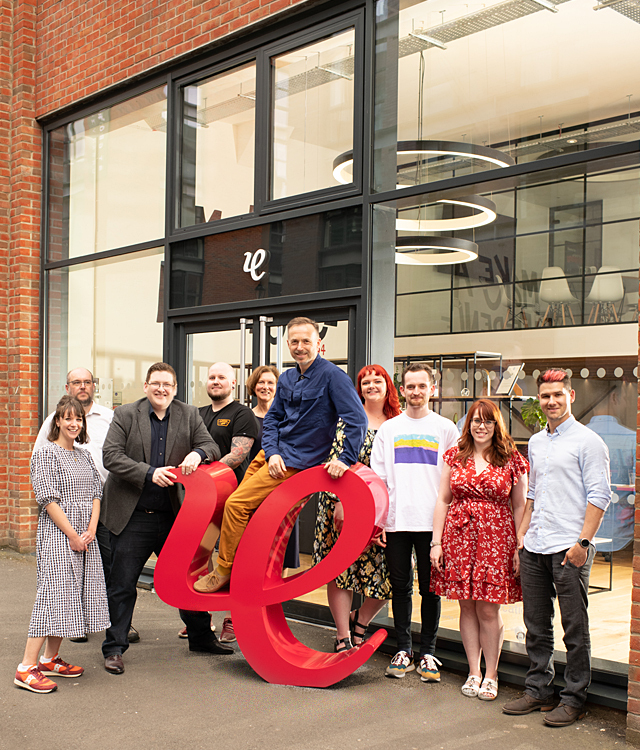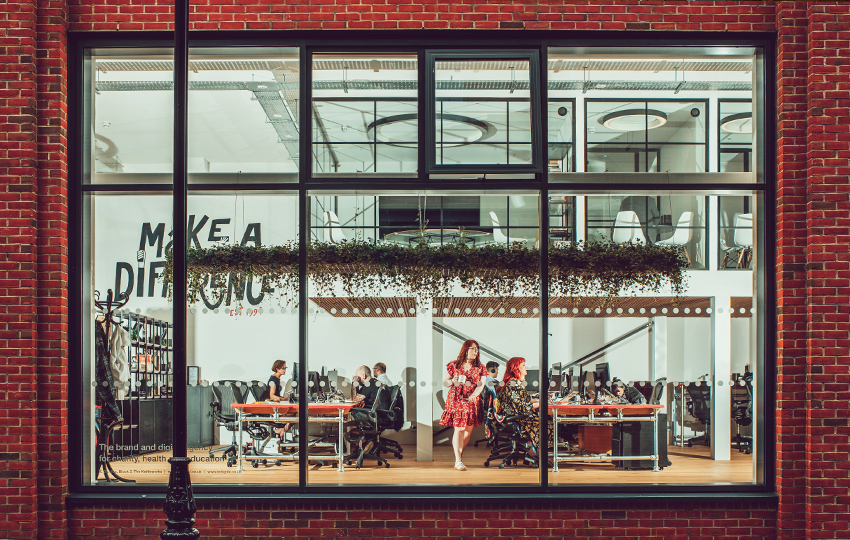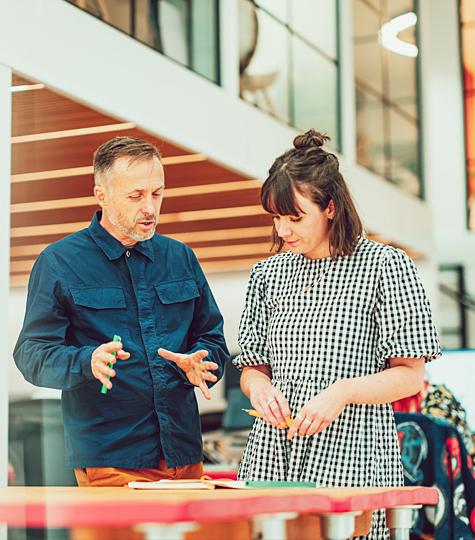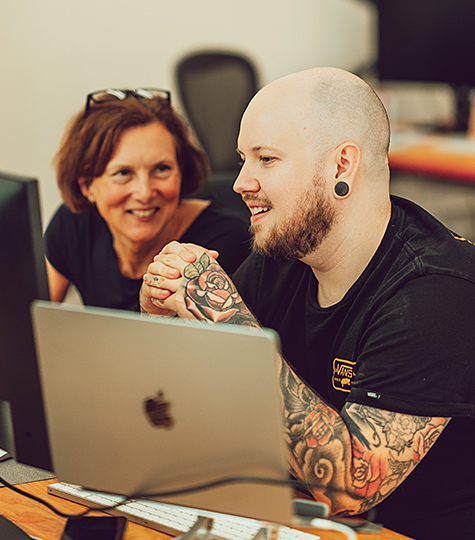 Off