Health, Education, Other
New association website for dispensing opticians
IE Digital has launched a new professional membership website for ABDO, the Association of British Dispensing Opticians. The new site has a much improved user experience (UX) and emphasises the benefits for ABDO's members.
---

---
We're pleased to have launched a new website for the Association of British Dispensing Opticians (ABDO), with a renewed emphasis on the User Experience (UX) through clear signposting and a user-friendly content structure. 
ABDO is the leading professional body for Dispensing Opticians, which campaigns to raise the profile of the profession and advance the scope of practice. ABDO members benefit from free Continuing Education and Training (CET) events, professional indemnity insurance, advice and guidelines, discounts on a range of products, and a benevolent fund for members if they fall on hard times. 
Well-structured, user friendly WordPress site
ABDO has a public site and a members' portal, which provides access to restricted content and membership benefits. They asked IE Digital to re-develop the public website initially, to streamline their content and greatly improve the user journey. A well-structured, user friendly CMS was a priority for ABDO, as content is the main focus for the public site. With its intuitive user interface, WordPress is perfect for a site with a lot of content, and ABDO's team were familiar with it from their existing site, so we decided to build the new site in WordPress too.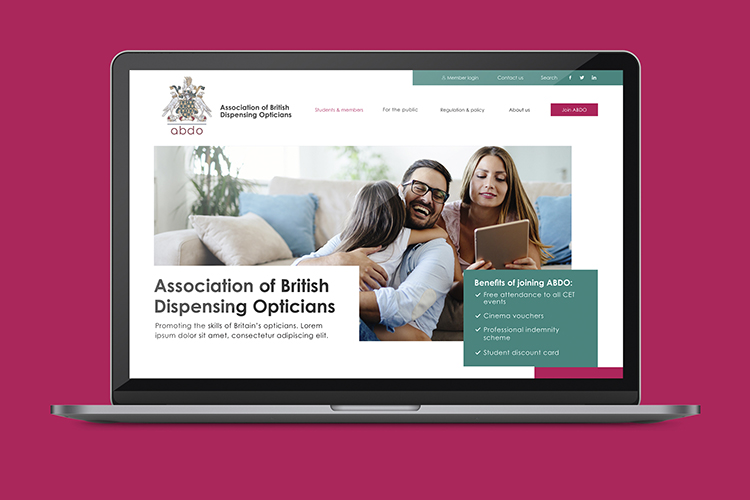 Member retention and renewals
While membership of ABDO is mandatory for students working towards Fellow of British Dispensing Opticians (FBDO) status, once fully qualified it's optional to continue as a member. As a result, a key objective of the website was to encourage member retention and renewals. When IE heard about the benefits ABDO offers to its members, the return on investment was self-evident, but the existing website wasn't communicating it to visitors. IE's job was to demonstrate the ROI for members, improve the online resources available, and make the undeniable benefits of membership far clearer. 
AA accessibility and mobile responsiveness
IE Digital took a close look at the user journeys for different user types, to create an intuitive user experience, using an element of personalisation to display different content depending on who is visiting the Students and Members section. AA accessibility was a must as many visitors to the site have a visual impairment. It was also a priority to make the website fully responsive on all devices, to ensure a great user experience on a desktop, laptop, mobile phone or tablet. 
The new design needed to adhere to ABDO's existing brand guidelines. We took ABDO's team through our 'Webtrends' process, which captures key stakeholder's reactions to several current trends in web design, providing a more objective measure of key stakeholder's hopes for the look and feel of the site. ABDO showed a clear preference for 'flat' design based around building-blocks and striking photography to catch the attention of users.
Intuitive information architecture
We restructured the site from its previous four separate navigation menus into a single, unified navigation split under four intuitive section headings based on user need. This makes it easy for users to find the area of the site they need, whether they are members of the public, students or existing members. Each section then contains sub-structures that allow the flexibility to categorise content to suit each area of the site. All member-focused content (not just login-only content) is now housed under the heading of "Students and Members".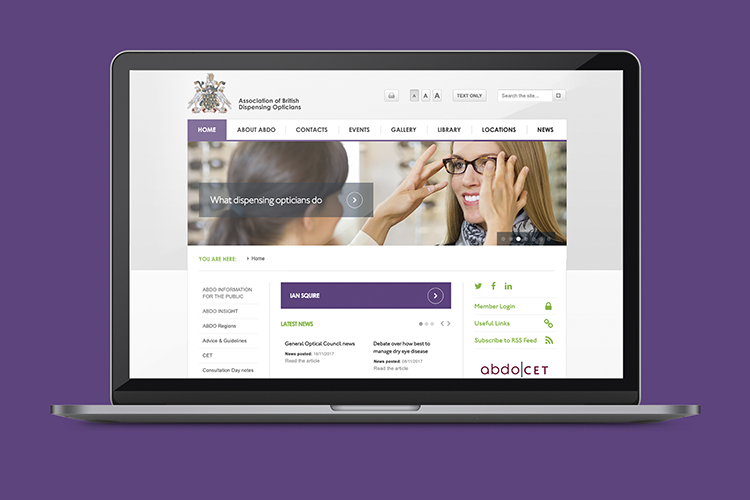 Launching the site to the industry, Antonia Chitty, Head of Communications at ABDO said: "We've created a fresh, modern look to improve the experience of our members and other users. Featuring better navigability with clear, concise and easily accessible information, we hope that it is now easier to find what you are looking for, whether it be advice and guidelines, business tips, member benefits, CET events or the latest news. We hope members and the wider profession make the most of all the new site has to offer, ensuring that we continue to deliver the best possible service to all."
Online member magazine
The site also features an extension of ABDO's member magazine, Dispensing Optics (DO) Online, which brings timely news, job vacancies and features from the world of optics to a digital audience, and provides opportunities for advertising revenue. There is an extended International section to the new site, outlining what ABDO can offer to members and trainee DOs worldwide, and a live chat option to speak to a member of ABDO staff.
Additional members-only material includes a Business Support Hub, vital Advice and Guidance for members to be aware of in practice, and savings on a wide range of products and services. 
What's next for ABDO?
Over the next few months, IE Digital will be keeping a close eye on the new website and monitoring performance against our initial hard and soft success criteria. Meanwhile, we're kicking off phase two of the project with ABDO, which will bring further improvements, particularly for member-only areas of the website. We'll be simplifying and automating the application and renewal processes for memberships to reduce administrative overheads, and creating an online entry and results system for exams.
Check out the new website at abdo.org.uk.
The Association of British Dispensing Opticians has been working with IE Digital to develop a new website. We are midway through a project and are delighted with the attractive and functional website which has already launched. The team at IE Digital have worked hard to take on board our requirements and come up with creative and innovative ways to deliver a great website for our members.

Antonia Chitty
Head of Communications, ABDO